Making a Difference in our Communities
By Justine Curry and Jessica Flannery
Community and Non-Profit Volunteer Opportunities
The SCVBR Community Affairs Committee has taken on the wonderful task of sharing community/nonprofit volunteer opportunities in our neighborhoods for all of us to possibly join or, from time to time, participate in. This month we are sharing some of the amazing contributions of the Wantastiquet Rotary located in Londonderry, Vermont.

Nearly 100% of all funds raised from this non-profit go towards academic scholarships for our local students heading on to higher education. With the costs of tuition these days, this is an immeasurable gift to our local youth. The Rotary does far more than raise money. The volunteer list seems almost endless and we will simply share a few.

The Rotary maintains the Visitor Kiosk in the center of Londonderry, they maintain all of the walking trails at Floodbrook Elementary School and the Londonderry Library, they always hold an annual food drive at Thanksgiving time, they host a 4th of July BBQ, and during the holiday season, they distribute, in conjunction with the Londonderry Garden Club and the Weston Women's Club, beautiful centerpieces and homemade cookies to shut-ins in our community. There is something for everyone to do within this wonderful organization. Whether it be helping to raise funds, donating funds, or participating in the many aforementioned wonderful deeds of neighborly "goodness."
SCVBR Supports Local Food Banks
Thanks to all of you, this year we were able to donate a total of $18,475 to seven area food pantries to help communities impacted by COVID-19. As a result of the pandemic, food insecurity rates and reliance on food pantries are skyrocketing.
Typically, in any other given year, we collect donations at meetings. However, this year we were not able to meet in person. This sparked us to form a fundraising committee and we were able to far surpass our goal of $10,000.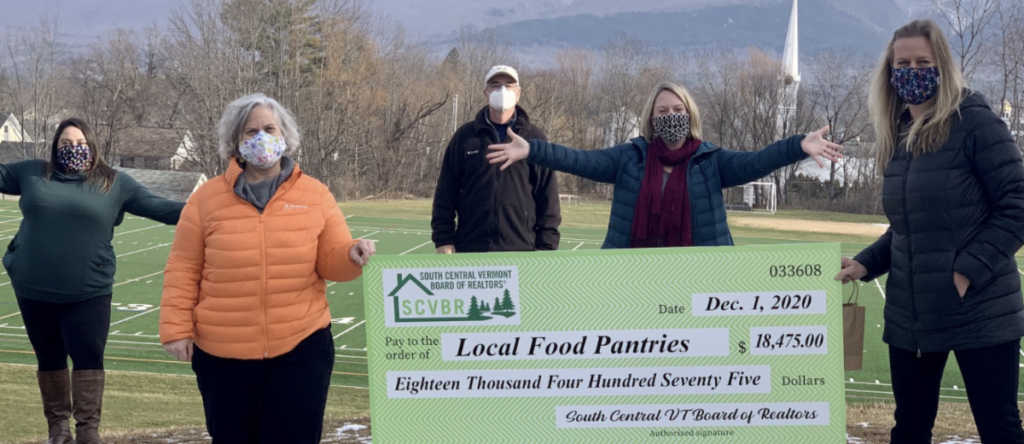 Diana Allen of the Jamaica/Wardsboro Food Pantry stated that for the holidays they usually hand out hams. With all of the money raised from SCVBR, they were able to offer side dishes and fruit!

Scott Winslow of The Greater Bennington Interfaith Community Services says, "Every year, GBICS kitchen cupboard serves almost 1,000 families struggling with food security. Of course, the greatest risk to the program right now is COVID, but continuing community support helps keep us running."
This fundraiser has shown how important it is to work together for the greater good and we hope that this success will carry on into future endeavors and inspire others to do the same! Thank you again for your generous support.